Product Detail
Product Tags
Buyer Reviews
we have accumulated rich experience and advanced technologies in the production of our products. for Affinity Chromatography Procedure,Chromatography Separation and Purification,UniMab 50L Recomibiant. We sincerely sit up for hearing from you. Give us a chance to show you our professionalism and enthusiasm. We're sincerely welcome good close friends from numerous circles at dwelling and abroad come to cooperate!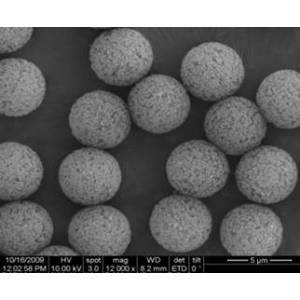 Protein A Affinity Chromatography Medium
Uni®Mab is a high performance Protein A affinity chromatography medium, introduced by Nanomicrotechwithits patented technology developed in-house. This medium is based on the monodisperse porous poly (methyl methacrylate) (PMMA) microspheres as the matrix, and a genetically modified protein A as the ligand, which ensures its high affinity binding of monoclonal antibodies and Fc fragment containing recombinant proteins (macromolecules). Uni®Mab has come with high mechanical strength and good pH stability. Even at a high flow rate, it still maintained a high dynamic binding capacity, meeting the demands from laboratory preparationto industrial production.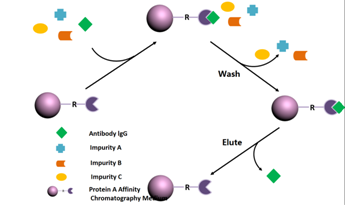 Characteristics and Advantages

Highly uniform particles
Uni®Mab affinity chromatography medium has highly uniform particle size distribution and precisely controlled porestructure, as shown in Fig. 1.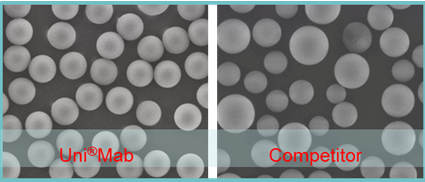 Figure 1. SEM diagram of Uni®Mab and a leading brand of protein A medium
High flow rate
Uni®Mab affinity chromatography medium was made from polymethyl methacrylate (PMMA) microspheres (as matrix); and it would withstand the pressure of 0.5 MPa. When compared to an affinity medium with convention alagarose matrix of the chromatography media, it would make the separation process much faster, thus reducing the time purification, for hundreds of liters of large scale chromatography preparative column.(Experimental:Column:4.6 mm × 50 mm Mobile phase:50 mM PBS,0.5 M NaCl)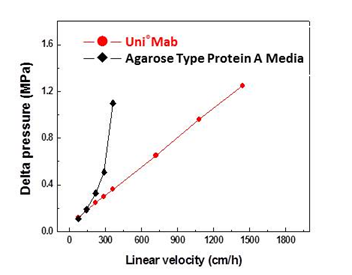 Figure 2. Comparison of Uni®Mab and a conventional agarose type protein A medium, their pressure vs. linear flow rate.
Excellent loading capacity
At a high flow rate, Uni®Mab showed a significantly better dynamic binding capacity (DBC) than that of the conventional agarose type protein A medium. The same observation was also valid, even when the residence time was increase to 4 - 6 minute.(Experimental:Column:7 mm × 25 mm Sample:Human IgG,2 mg/mL Equilibration buffer:20 mM PBS,pH 7.0 ,0.15 M NaCl Elution:0.1 M Glycine ,pH 3.0)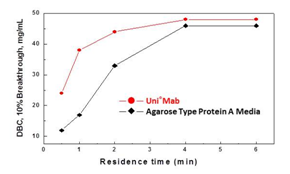 Figure 3. Comparison of Uni®Mab with a leading brand of Protein A medium, for their dynamic binding capacity
Outstanding pH stability
Uni®Mab affinity chromatography medium could be applied in a pH range from 3 - 12, and it could be cleaned with 0.1 - 0.5 M NaOH. In a life-cycle test, Uni®Mab medium remained greater than 90% of the original dynamic binding capacity (DBC), after 100 CIP cycles with 0.5 M NaOH as CIP reagent. (CIP procedure:Medium:Uni®Mab Column:7 mm × 25 mm Sample:recombinant antibody(chimera) DBC calculation:10% breakthrough Equilibration buffer:20 mM PBS,150 mM NaCl, pH 7.2,3 CV(column volume) Elution:20 mM Citrate,pH 3.0 CIP:0.5 M NaOH,15 CV Re-equilibration:10 CV)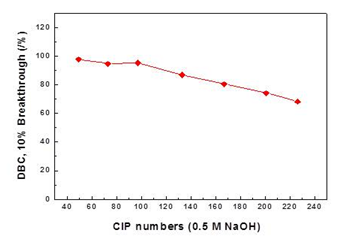 Figure 4. Uni®Mab pH stability in life cycle tests
Application
Uni®Mab was secessfully applied in purification of hIgG from human serum. (Experimental:Column:7 mm× 25 mm Sample:human serum,5 mL Equilibration Buffer:20mM PBS,pH 7.0
0.15 M NaCl Elution:0.1 M Glycine ,pH 3.0 Residence time:4 min )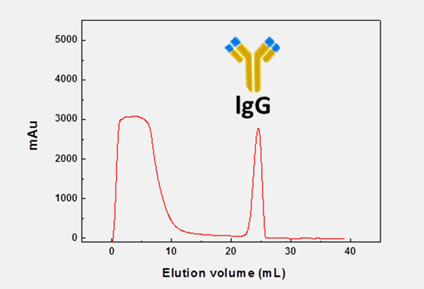 Figure 5.Uni®Mab used in hIgG purification from human serum
Technical information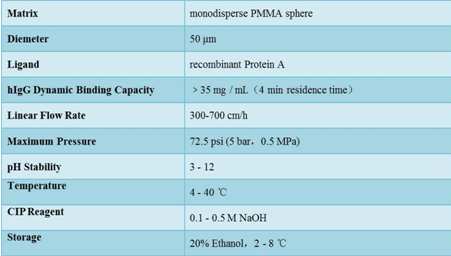 Pre-packed column cartridge

About Nanomicrotech
We are proud to be the sole producer (and provider) of monodisperse, super pure silica gel chromatographic media in the world; we also provide monodisperse polymer chromatographic media (these products will match the performance of similar GE products). Nanomicrotech Co. is one of a few companies in the world, with a capacity of commercial-scale production for both polymer chromatographic media and super pure silica gel media. Currently, the company currently offers most kinds of purification media, covering the positive phase, reverse phase, ion exchange, hydrophobic and affinity chromatography.
"We have a highly efficient team to deal with inquiries from customers. Our goal is ""100% customer satisfaction by our product quality, price & our team service"" and enjoy a good reputation among clients. With many factories, we can provide a wide range of Protein A Affinity Chromatography Medium UniMab 50L Recombinant. The product will supply to all over the world, such as: Bhutan,United Arab Emirates,Finland. Welcome to visit our company factory and our showroom where displays various hair merchandise that will meet your expectation. Meanwhile it is convenient to visit our website and our sales staff will try their best to deliver you the best service. Please contact us if you have to have more information. Our aim is to help customers realize their goals. We have been making great efforts to achieve this win-win situation.